Mold Inspection and Assessment
Chesapeake Environmental Solutions employs Industrial Hygienists, Inspectors and Consultants that have been nationally accredited by The American Council for Accredited Certification (ACAC), North America's oldest and most prestigious certifying body dedicated to indoor air quality and the only certifying body in the Indoor Air Quality field to achieve independent third-party accreditation from the Council of Engineering and Scientific Specialty Boards. We have an extensive list of satisfied clients both commercial and residential, and over the years we have helped hundreds of home owners, business owners, real estate firms, hospitals, churches and government agencies with mold inspections and other general indoor air quality assessments.
If you think that you may need a professional indoor mold assessment, the process begins with a telephone conversation with one of our ACAC Board Certified Environmental Consultants. Should we come to terms and you decide to move forward, we will obtain some preliminary information and make arrangements for a site visit, usually in just a day or so.
Following a visual walk-through of your site, we would perform a mold and moisture sampling survey to confirm the presence, or lack thereof, of moisture and mold problems. A variety of equipment and procedures may be used to sample the air, non-invasively see behind walls and sample surfaces for active mold growth.
We often recommend ambient air sampling during our assessments because mold growth can be hidden in walls and under floors. And while the mold may not be readily visible; it will be impacting your indoor air quality. Have you ever smelled that musty odor often associated with a damp basement? That smell is actually your nose detecting microbial volatile organic compounds (MVOCs) and that is a sign of active mold growth.
Depending on the level of service you require, you may receive a comprehensive environmental assessment report. Should this report conclude there is a mold and/or moisture problem, you would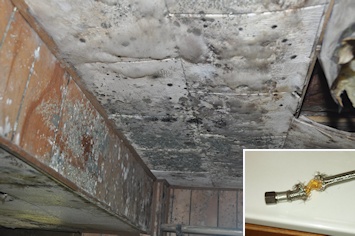 Extensive water and Mold damage occurred in the basement of this home after a defective water supply line in a bathroom burst and flooded the basement while the homeowners were away on vacation.also receive a written "protocol" or "remediation guide" that would systematically define the procedures for cleaning up your environment in accordance with industry standard guidelines such as those referenced in the IICRC S520. You would also receive specific instructions on correcting the deficiencies that caused the problem and how to ensure you don't have a similar problem in the future.
The final document often received following an environmental remediation involving a mold problem is known as the "Post Remediation Verification" letter. This document verifies that your mold problem has been corrected and your indoor environment is safe and healthy. It is very important when choosing a Mold Inspection company to ensure they have proper certifications and insurance necessary to issue this document.